You went to school to learn how to help people, but you can't help them if your business is out of control.
My name is John Clarke. I'm a therapist just like you, and I know what it's like to feel lost and confused when it comes to getting new clients consistently and growing a successful practice with no business or marketing training. I've grown 2 thriving practices using the exact methods that I teach therapists today.
You know you're a good therapist, but you can't help people if they can't find you. 
You can get more clients consistently, grow a profitable practice, and become the business owner you've always imagined.
Jeremy Mast
Business Owner
"Working with John didn't just change my practice. It changed my life. John helped me "go deep" and identify who I am as a therapist and helped me translate that into a personal brand. He also helped me transform my marketing plan so that I now consistently generate referrals. I don't have to worry anymore about the empty slots on my calendar, and I feel exponentially more confident about my business. Thanks John! You've made me a lifelong fan."
You can become a practice owner who finally feels in control of your business.

Get Fully Booked™
Fill the empty slots on your calendar and grow a highly profitable practice. Learn how to setup our system for getting new therapy clients consistently. This training program is the prerequisite for our other 2 offerings.

Join Purpose Driven Practice™
Grow a profitable, Purpose Driven Practice™ and lead a life of success and significance. Join our mastermind community that meets weekly and includes an in-person retreat. Designed for you to thrive.
Work 1-on-1 with John
Take everything to the next level when you work with John in the most "high-touch" offering available. Meet with John twice monthly for 3 or 6 months to go deep into all areas of your business: mindset mastery, marketing automation, passive income, scaling, hiring, and much more.  **Please note: this offering is generally reserved only for therapists who have completed the Fully Booked™ training program. Please email us to learn more and apply.**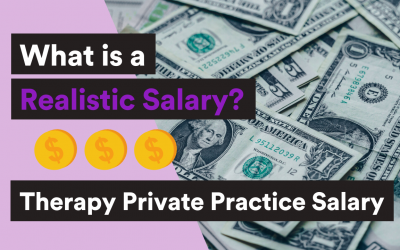 What is a Realistic Therapy Private Practice Salary? How Much Money Do Counselors Actually Make? The dream of private practice for many counselors, therapists, and psychologists is primarily driven by two things: freedom and money. This often means earning at least a...